Loveland Pass
Photo-op
Varley
Drum Smoke
Fiddler's
Les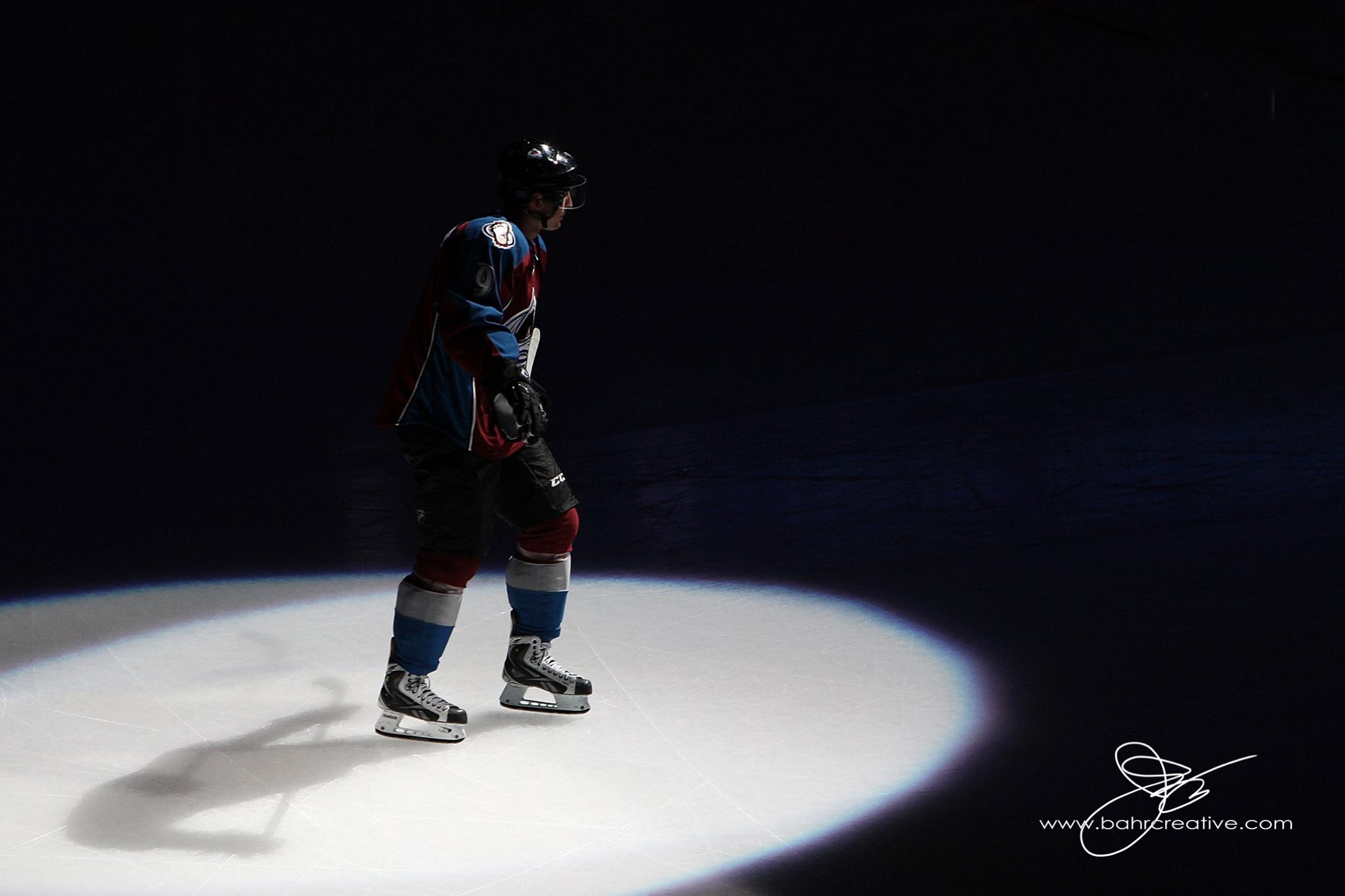 Duchene
Buena Vista
Mimosa
Backstage
Bruuuce!
Smoke Break
Still Human
Nero
Rays of Energy
Lil Whatever
DJ Ice
Tilt Shift Hockey
Frisco
Red Rocks Light Art
Cowboy Hockey
Balance
Pile Up At The Net
Iron & Wine
Inverted Sequence
Goal Landeskog
On Stage
Patricia
Lone Tree
Pepsi Center
Loveland Pass
This is an HDR shot that I made one day, almost accidentally. I had a little too much on my mind, so I grabbed my camera and headed toward the mountains. This is where I ended up. General view of Loveland Pass looking toward Arapahoe Basin.
Photo-op
I was dead center shooting up and Pelle leaned right over me and placed his hat over my lens. This is the only in focus shot (sort of) that I was able to get. I was so pumped that he did that. Howlin' Pelle Almqvist of The Hives leans in for a photo-op at Red Rocks Amphitheatre.
Varley
Semyon Varlamov #1 of the Colorado Avalanche gets his game face on during a game at Pepsi Center in Denver, Colo. Varley was a beast that year and really earned my respect as a goalie, not that he needed it. It looks like he wants to stop the puck and then wrip off your head off. Love it.
Drum Smoke
Eddie Fisher of the band One Republic plays the drums during a concert at Red Rocks Amphitheater. Just loved the way the smoke is engulfing him on this one. I didn't know it at the time, but a couple months later I would be photographing this band again as hired help.
Fiddler's
Dusk at Fiddler's Green Amphitheater near Denver, Colo. In addition to covering the music that night, I was tasked with getting venue shots. This is my favorite from that night.
Les
Les Claypool of Primus plays bass during a show at the Ogden Theater in Denver, Colo. This photo was honored by RollingStone.com as "hot photo of the week" or something like that. I remember being so proud of that. Still am.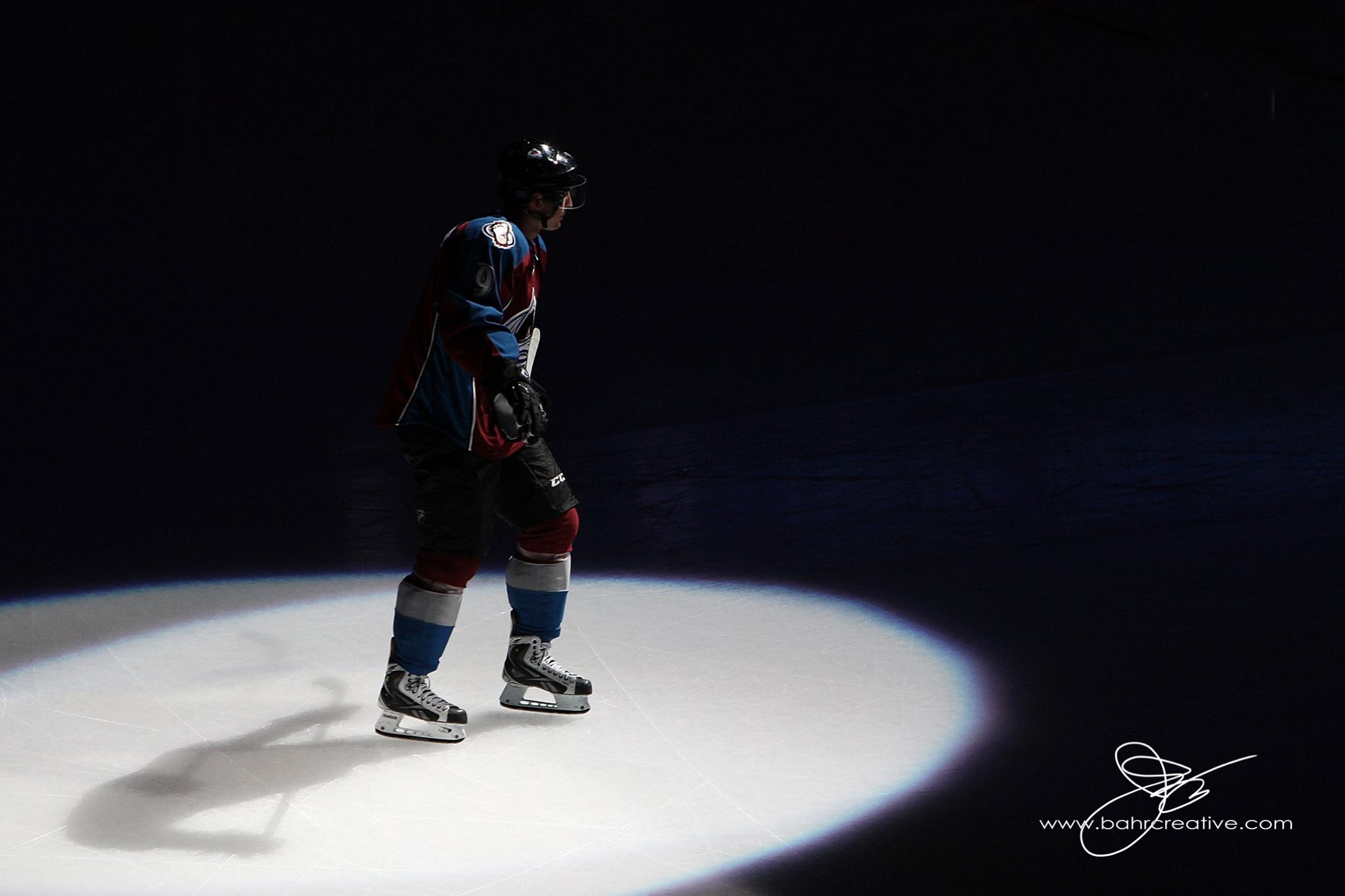 Duchene
Matt Duchene #9 of the Colorado Avalanche is introduced prior to a game at Pepsi Center in Denver, Colo. This is in my top five favorite hockey photographs. I love the isolation and focus.
Buena Vista
General view of the Collegiate Mountain Range near Buena Vista, Colo. Another road-side landscape pic. I was on my way home from photographing Whatever, USA in Crested Butte. Saw this view and stopped. Then realized I had all my gear in the car and figured it was time to snap a photo.
Mimosa
Mimosa performs at The Fillmore Auditorium in Denver, Colo. Took this my first year as a pro, but this is still one of my favorite shots. Love the light burst on this one.
Backstage
Nick Hissom enjoys a quiet moment with his dancer prior to performing at Red Rocks Amphitheatre in Morrison, Colo. I remember going for a hike at Red Rocks Park that day. I had my gear in my car because I wasn't sure if I was going to cover this. Got the call late and decided to go. That was my first backstage experience at Red Rocks. They are using LED strips to light their clothing.
Bruuuce!
Bruce Springstein pauses to appreciate his fans during a performance at Pepsi Center in Denver, Colo. I mean, it's freaking Bruce Springstein. I had my parents in mind on this shoot. I wanted to have these photos for them.
Smoke Break
A stage hand takes a moment to enjoy a smoke during a set change at Red Rocks Amphitheater in Morrison, Colo. This shot was kind of accidentally good. Usually between bands, we (the other photogs and I) chat it up. I remember looking over and seeing the way the light was interacting with the smoke and made the shot.
Still Human
I was on assignment for this shoot. Ryan Seacrest was opening a broadcast studio that he donated to the kids at the children's hospital. He leaned over and took a moment to talk with this young girl, who was very obviously facing some challenges. I'm still touched by this photo. Ryan Seacrest shares a moment with a patient at Children's Hospital Colorado in Aurora, Colo.
Nero
Dan Stephens and Joe Ray of Nero perform at Red Rocks Amphitheater in Morrison, Colo. The cool thing about this pic is that there is hardly any processing on it. Stage lighting and a touch of contrast.
Rays of Energy
John Gourley of Portugal. The Man performs at Red Rocks Amphitheater on August 21, 2014 in Morrison, Colorado. I just love how the background frames him in this shot. It's like it was painted around him.
Lil Whatever
Lil John pumps up the crowd at the first ever Whatever, USA in Crested Butte, Colo. I still remember the opening of this event. It was nuts. There were like a thousand people on Main Street in Crested Butte. The organizers corralled everyone at the gates and then we all marched down the street together to find Lil John opening on the stage.
DJ Ice
A DJ warms up the crowd as snow flurries fall during Winter on The Rocks at Red Rocks Amphitheater in Morrison, Colo. He was performing in the crowd just behind the soundboard. I remember seeing how the light was hitting him and thought I might be able to get a silhouette of him. The spotlight made the shot.
Tilt Shift Hockey
This is what the Pepsi Center looks like through a tilt-shift lens just before the opening face-off of a Colorado Avalanche Hockey game at Pepsi Center in Denver, Colo. We had a tilt-shift on loan for that game and I was told to "go have fun with it".
Frisco
I made this photo after a family weekend in the mountains. It's a handheld HDR image looking toward Frisco, Colo. It was so beautiful and I didn't want to leave. I remember the kids getting impatient with me and yelling at me from the car. You can see the Dillon reservoir in the lower left of the image.
Red Rocks Light Art
This is a single frame with long exposure during a concert at Red Rocks Amphitheater in Morrison, Colo. The light streaks you see are LED lights on shoes and cell phones.
Cowboy Hockey
I love this photo and the juxtaposition of "old" Colorado with the "new". The cowboy hat at a hockey game, definitely Colorado.
Balance
I made this shot recently on a hike. Again, had a lot on my mind and was missing photography. Grabbed the camera and headed out to explore the cliffs I saw in Castle Rock, Colo. Made this shot (handheld, HDR) of a rock sculpture on the way back to the car. I added the top two rocks.
Pile Up At The Net
I love this pic and the chaos of hockey that it portrays. Guys pointing and shouting. Dudes on the ground trying to make sense of what just happened. I love hockey. Hockey players pile-up after a collision near the net while the Colorado Avalanche take on the LA Kings at Pepsi Center in Denver, Colo.
Iron & Wine
This was another one of those shots where the focus, composition, and exposure came together just right. I also feel like the shot really communicates his music style too. Isolated. Beautiful. Simple. Samuel "Sam" Ervin Beam performs as Iron & Wine at Red Rocks Amphitheater in Morrison, Colo.
Inverted Sequence
This was the first snowboard competition that I ever covered. My father-in-law was sick in the hospital at the time and my wife was home visiting. I had my son with me that day. This was also my first attempt at the sequencing overlay that you see. I just remember feeling so honored to be there, especially with everything going on. Unidentified snowboarder throws one down in the half-pipe during the Spring US Grand Prix at Copper Mountain, Colo.
Goal Landeskog
Gabriel Landeskog #92 of the Colorado Avalanche scores on Henrik Lundqvist #30 of the New York Rangers as teammate Kevin Klein #8 looks on at Pepsi Center in Denver, Colo. This was shot from the broadcast chairs on level 2. I was happy with the exposure and how you can see the look on Henrik Lundqvist's face as he knows this one got by him.
I was hired as the production photographer this day. I love production shoots. All the lighting is taken care of for you, plus you get to see how it's really done. Ryan Tedder of One Republic sings while recording the "I Lived" video at Red Rocks Amphitheater in Morrison, Colo.
On Stage
This photo was made the same night I was hired as the production photographer. I was getting chased around by the stage manager who didn't believe I was supposed to be there, even though I had "working" on my credential. I had backstage, on stage, understage, and soundboard access, but no pit (in front) access due to the stage manager's disgust for me. Thank God, may not have seen this one otherwise.
Patricia
Patricia is a friend of mine and had just started as a realtor. She needed headshots so we met up at Garden of the Gods in Colorado springs. I loved the way her blue shirt interacted with the orangy rocks in the background. Looking great, as always, Patricia!
Lone Tree
This one was made on the same hike as the rock sculpture photo. This tree was perched on the cliffs and it just had a ton of personality. The detail in the wood grain was sick. It just looked like it was standing there against the odds.
Pepsi Center
This is one of my favorite stadium shots of the Pepsi Center. I love how I was able to get the flags in the shot. It's actually pretty hard to nail the exposure due to the ice being so bright compared to the surroundings. Dunno, just like this one.
1
2
3
4
5
6
7
8
9
10
11
12
13
14
15
16
17
18
19
20
21
22
23
24
25
26
27
28
29
30
31
·
·
·
·
·
·
·
·
·
·
·
·
·
·
·
·
·
·
·
·
·
·
·
·
·
·
·
·
·
·
·